If you are looking to increase the security around your surroundings, then opt for this CP Plus 8 Ch DVR and 6 Dome IR & 2 Bullet IR -720 TV Camera CCTV Surveillance System that is sure to impress. The cameras and the DVR are very easy to install, given that they are constructed with mounting facilities. The cameras work well everywhere, be it outdoor or indoor. They are designed with high quality image sensors with high resolution lenses for enhanced operations. It has a power supply of 12 V with a power consumption of 10 W. It measures 205 MM X 205 MM.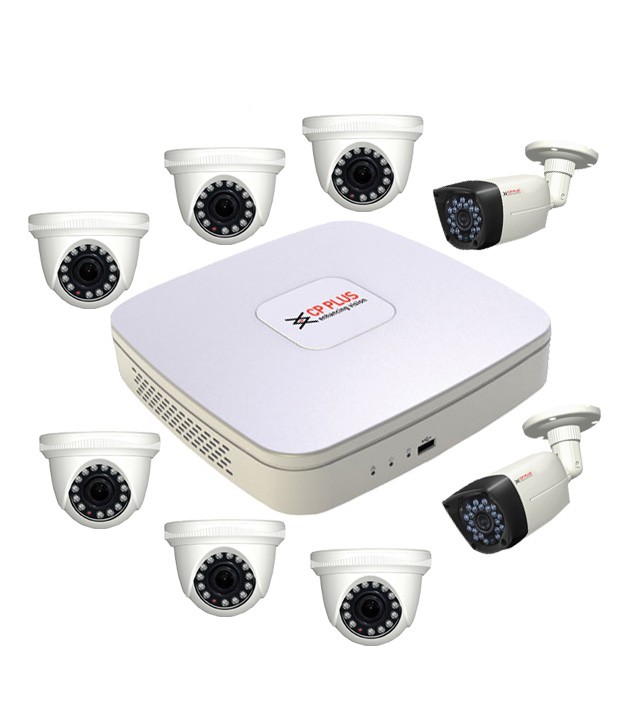 Image Sensor
CP Plus 8 Ch Combo contains bullet and dome cameras, which are equipped with very high quality image sensors. These cameras have powerful lenses that will surely result in crystal clear vision even if lighting may be insufficient. It functions on an embedded Linux operating system.
Audio and Video Input and Output
It has an 8-channel BNC video input. It has a video output of HDMI, VGA, TV, a NTSC (525 Line, 60 f/s), PAL (625 Line, 50f/s). It has a video resolution of 1920 x 1080, 1280 x 1024, 1280 x 720, 1024 x 768. It has video recording facilities at a frame rate of 30 fps. It comes with a single channel RCA for audio input and output. It also has a video loss support.
Indoor/Outdoor Usage
CP Plus dome and bullet CCTV cameras are great for both outdoor and indoor use.  These cameras are dust tight and can also withstand strong jets of water at the same time.
The dome and bullet cameras are ideal for outdoors too because of their long range.
Mounting Type
The cameras are designed with a ceiling mount structure, which ensure that it can be easily installed on the ceiling. You can even place them in corners so that they cannot be seen.
Memory Storage
This DVR has a memory of up to 4 TB, while the hard disk can be connected to a SATA port. It has a backup mode with two USB 2.0 ports and an Ethernet port. You can also connect your smartphones ranging from Android to Windows phones and iPhones.